True Blue.
A long lost friend called me out of the blue the other day. It was really nice to hear from her. I hate to admit this but I am terrible at keeping in touch. I'm tempted to give this blog addy out even more than I already have so that people have a fighting chance at staying in touch with me.
Am I lazy? I don't know. Maybe that's part of it. Some friends I am just willing to let go. Others, I know that no matter how often or how rarely we chat, we'll always be friends.
I have lost contact with more than a few friends since I moved to Otown. A few valiently tried to call me and keep up the ties. I was content to let it fade. Maybe leaving those people behind were part of leaving my old life behind. Maybe.
It's not really fair of me. Perhaps some of my friends were left wondering what in the hell happened. I am sorry for that but I am thankful for the true blue friends that I keep. For they are worth stadiums full of friends.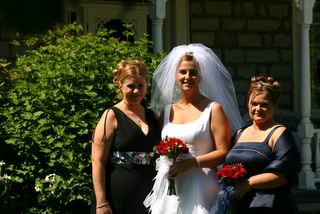 Me and my best girls.