I always wanted to be Princess Leia....
She was my hero when I was a kid. Strong, royal, sexy, romantic, beautiful and independent. Plus she got Han Solo in the end and who didn't have a crush on him?????
But alas, after going through a battery of rigourous tests the force has decided that I am Skywalker.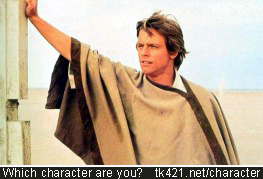 Boldly striving to overcome the darkness both in this world and within yourself, you are righteously devoted to forging your own destiny.

It's your choice, but I warn you not to underestimate my powers.